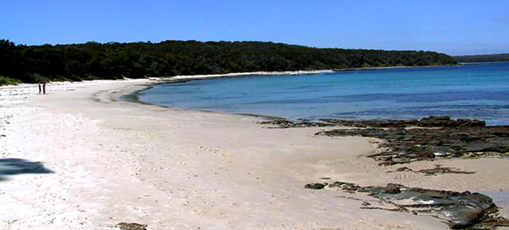 Cabbage Tree Beach is situated north of Long Beach. This beautiful small beach is the ideal
spot for a family picnic day, great for walking snorkelling and swimming. It lies inside a Sanctuary Zone in the Jervis Bay Marine Park.
To find Cabbage Tree Beach turn right into Lighthouse Road (just before you drive into Currarong.)
Drive through the security gates, take the next right turn then the second left turn.
Honeymoon Bay is a picturesque location situated in Jervis Bay about 10 kilometres from the edge of Currarong along the Point Perpendicular Lighthouse Road. Honeymoon Bay is accessed through security gates at the start of Point Perpendicular Road.
Honeymoon Bay is a must to spend a family day in the shade by the beach and you can also do a little fishing and snorkelling. Camping is offered at Honeymoon Bay on most weekends and during school holidays. You need to bring your own water and gas operated cooking equipment. Fires are not permitted. At times the area is closed for Department of Defence exercises. Camping sites are available through a ballot system. Phone the rangers for further information on 02 4448 3411.