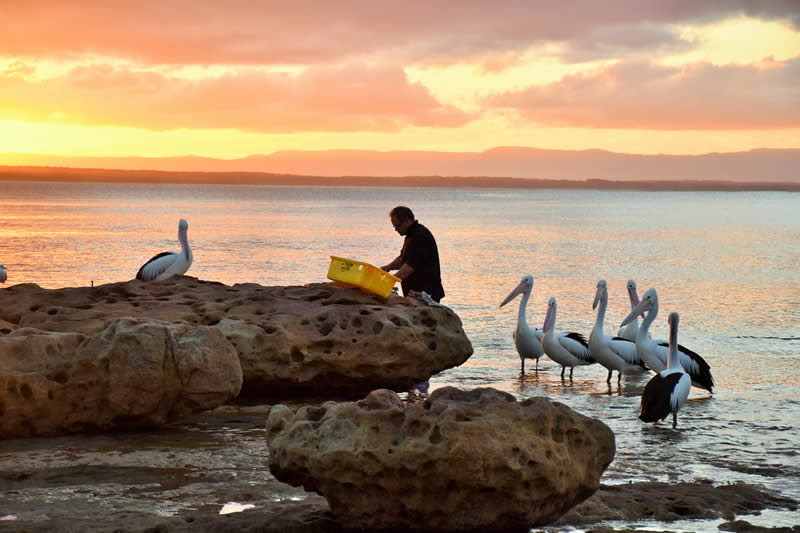 Currarong lies within the Jervis Bay Marine Park and fishing is not allowed in Sanctuary Zones. However a large proportion of the coastline is accessible for rock fishing. Over the years rock fishing has consistently returned fabulous catches for many anglers. One of the best known rock ledges on the South Coast is Beecroft Head. From this rock platform large numbers of kingfish, sharks, tuna, luderick, black drummer and snapper have been landed.
Other renowned rock ledges are Old Man's Hat Little Beecroft, Lobster Bay, Wreck Point, Sloping Rock, Bosom Beach, Home Reef, Peels Reef, Plutus Reef and Kinghorn Point.
Read our Rock Fishing Flyer
Currarong is the gateway to the world famous Sir John Young Banks where record catches of nearly every species of fish have been landed including giant Yellowfin tuna, huge Kingfish, record breaking Marlin, Wahoo, and Snapper.
"The Banks" comprise a large area of reef with a number of shallow pinnacles about 10 km from the newly constructed boat ramp.
Many boats now travel more than 30 km to the Continental Shelf to fish for Tuna, Albacore, Marlin and sharks.
One of the many benefits of off-shore fishing is the opportunity to closely observe whales, dolphins and seabirds in their natural environment.
Closer to shore, catches of snapper, flathead, morwong, kingfish and bonito are commonplace. The Drum and Drumsticks, the Big Bommie, Hammerhead, and the Shallows are some of the "hot spots".
Read our Off-Shore Fishing flyer